Parent organization
MVR Cancer Center & Research Institute, India
MVR Cancer Centre and Research Institute, India is a non-profitable charity organization initiated by the Calicut City Service Co-operative Bank in 2011. It has been registered under the Kerala Societies Registration Act of 1860. The charitable society comprises 15 professionals from various walks of life and two government nominees.
The foundation was started with the noble cause of eliminating cancer. In 2014, the Government of Kerala has given special permission to Calicut City Service Cooperative Bank to release a loan of Rs 350 core to Care Foundation to start work on a world-class cancer hospital at Choloor, Velallasseri, Kozhikode.
THERAPEUTIC FACILITIES
Radiotherapy
Chemotherapy
Surgery
Hormone Therapy
24×7 Emergency Services
Linear Accelerators
Simulator
The computerized treatment planning system
Microelectronic (HDR Machine)
Plasma apheresis system
Photodynamic therapy facility
Well equipped surgical theatres with ultra-modern facilities
Advanced Dosimetry System
XVI Patient Positioning System
DIAGNOSTIC FACILITIES
PET-CT
MRI
CT Scanner
C-ARM
Cath Lab
X-ray
Mobile X-ray Unit
Mammogram
Gamma Camera
Doppler Ultrasound Scanner
Thyroid Scan
Blood Auto Analyser
Blood Gas Analyser
Fiberoptic Endoscopes
Cytogenetics
Karyotyping, FISH
Real-Time PCR
Sanger Sequencer
Next-Generation Sequencer
Immunohistochemistry
Pathology laboratory with frozen section facility.
OGD-Endoscopy
Colonoscopy
Bronchoscopy
Colposcopy
Tissue Culture Facility
SUPPORTING FACILITIES
WiFi Facility
Bank
ATM
Covered Car Parking
In campus Palliative care facility
Accommodation facility for relatives
Spacious Canteen & Café
KSRTC bus connectivity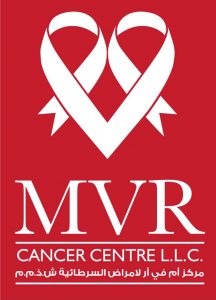 Better Health Care is Our Mission
MVR Cancer Centre L.L.C., Dubai
+971 4 2327111
+971 50 860 9611
dubai@mvrccri.co
Ground Floor, Flora Inn Hotel Building, Dubai Airport Road, Al Garhoud, Dubai, UAE
MVR Cancer Center & Research Institute, India
(+91) 495 2289500 – 580
info@mvrccri.co
guestrelations@mvrccri.co
CP 13/516 B, C, Vellalasseri NIT(Via), Poolacode, Kozhikode, Kerala – 673601